The ESP01 is an ESP8266EX module integrated on a board (breakout) which allows you to add a WiFi connection to an Arduino project. It is a WiFi module equipped with 4 autonomous digital inputs / outputs (GPIO) which is programmed with Arduino code. The ESP01 version has 512MB of flash memory. The ESP-01S version has 1MB of flash memory. We can use the GPIO to drive a relay, take environmental measurements (temperature, humidity, atmospheric pressure, etc.), display information on an SSD1306 OLED screen, etc.
ESP-01 (512KB) or ESP01S (1MB) on sale
$8.99
$13.99
in stock
as of 3 December 2022 2 h 04 min
$11.99
in stock
as of 3 December 2022 2 h 04 min
ESP-01 pack: relay, DHT22, WS2812…
ESP01 Programmer with integrated UART converter
The ESP01 is an ultra compact WiFi development board that does not have a UART to USB converter. It will therefore be necessary to manufacture an assembly to be able to upload a program from the Arduino IDE or PlatformIO. You will need an FTDI module listed below.
Wiring to put the ESP-01 module is in bootload mode.
The other solution is to buy a programmer that is equipped with a 3V3 stabilized power supply and a UART (serial port) to USB converter.
Before buying, you can consult this article which explains which model to choose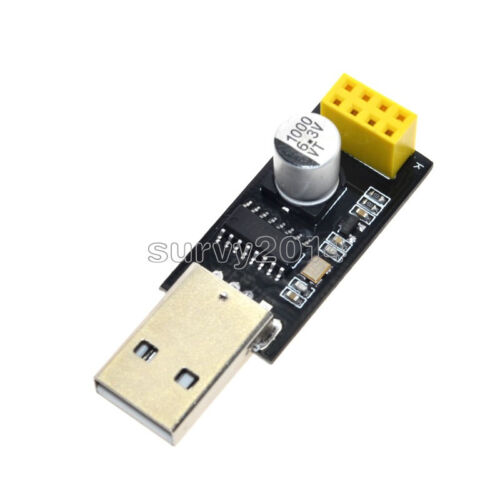 $10.99
in stock
as of 3 December 2022 2 h 04 min
Adapter for easier wiring