The LoLin32 Lite Wemos is a more compact version of the LoLin32 which has been very often cloned by many other chinese development board manufacturers. It is more compact (about 45x22mm) but it provides the I/O assemblies of the ESP32. Two 13-pin connectors connect 21x I/O (3V3 operation), 1x 3V3, 1x GND and the EN/VP/VN pins. The LiPo battery connector type JST XH2-2.54mm is always present. It is now positioned in the axis of the board next to the RESET button.
It has a corrected version of the Espressive SoC, the ESP32-DOWD6Q 28017 (marked as Rev.1). It comes with pre-installed micropython firmware but you can run Arduino code or Lua programs as well.
Pin Evolutions Between the LoLin232 and the Lite
Here is a comparative table that summarizes the changes made.
Pin
LoLin32
Lite version
3V3
x2
x1
5V
x1
–
GND
x5
x1
EN
X
X
VP
X
X
VN
X
X
RX/TX
X
–
Broches E/S

34, 35, 32, 33, 25, 26, 27, 14, 12, 22, 19, 23, 18, 5, 17, 16, 4, 0, 2, 15, 13

x21
x21
Best deals on Internet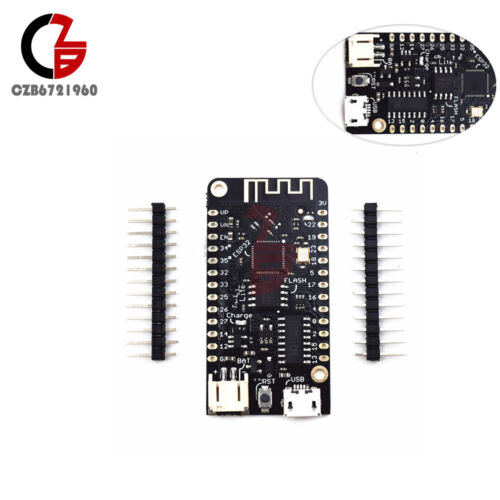 $14.42
in stock
as of 8 December 2022 2 h 11 min
History and best price on AliExpress