This shield, suitable for the WeMos d1 mini, makes it possible to produce connected objects that operate on a LiPo battery. The battery connector is JST XH2-2.54mm. To learn more, read this post for a complete test of the Shield Battery.
Technical characteristics
Charging voltage: nominal 5V (max 10V)
Load current: 0.5A by default. Solder the jumper J1 to increase to 1A (be careful, check the compatibility with the battery before any modification)
Supported Lithium Battery: 3.3 to 4.2V
Voltage converter up to 5V (max. 1A)
Battery connector in JST XH2-2.54mm
Micro-USB connector (OTG) for recharging (5V, max 10V)
Green Led: On when charging is complete
Red Led: On during charging
Jumper J1: Increases the load current from 0.5A to 1A
All technical data given as an indication. They may vary from one manufacturer to another. Check compatibility with your battery and charger before using the Shield Battery. Never exceed the maximum permissible voltage of the battery. Failure to observe the instructions may cause the battery to explode.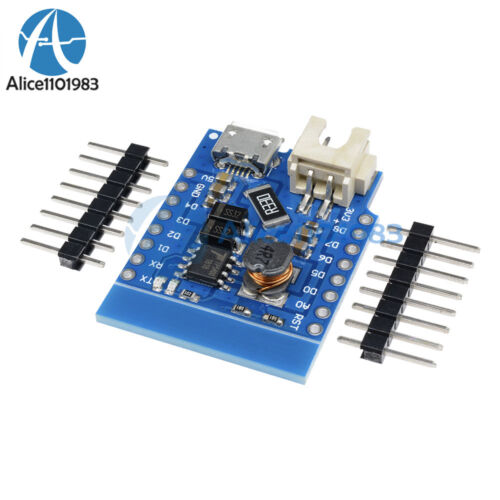 Best deals on AliExpress
All specials for Wemos official shields