The AMG88xx (AMG8833 / AMG8831) from Panasonic is a Grid-EYE matrix infrared sensor capable of simultaneously boardping 64 temperatures (8×8 pixels). It detects heat (infrared radiation) from the human body or any other object. The sensor is equipped with an I2C interface making it possible to recover the thermal image. The measurement frequency can be up to 10 measurements per second.
Please note, this sensor does not offer sufficient accuracy (± 2.5°C) for medical use. It should not be used for medical purposes such as detecting COVID-19. For example, it can be used to detect presence, fault diagnosis by thermal analysis, etc.[/ wpsm_box]
Difference between designations AMG8833 and AMG8831
AMG

8

8

_
_
Number of vertical pixels
Number of horizontal pixels
Supply voltage

3. 3.3V

5. 5V

Amplification

3. High gain

4. Low gain
There are two generations of the AMG sensor. The current (33,34,53,54) and old (31, 32, 51, 52) versions. This is the reason why we often find the two references on the daughter boards (breakout). The most common part number is AMG8833 / 31.
| | | | |
| --- | --- | --- | --- |
| Reference | Old reference equivalent | Power supply | Signal amplification |
| AMG8833 | AMG8831 | 3V3 | High |
| AMG8834 | AMG8832 | 3V3 | Low |
| AMG8853 | AMG8851 | 5V | High |
| AMG8854 | AMG8852 | 5V | Low |
Technical specifications of AMG8833
Square matrix temperature measurement consisting of 64 points (8×8 pixels)
Operating voltage: 3.3V or 5V
Temperature accuracy: ± 2.5°C or ± 4.5°F (typical)
Human detection distance: 7m maximum
Temperature difference equivalent to noise is 0.05°C at 1 Hz
Measuring angle: 60°
Current consumption: 4.5mA (normal mode), 0.2mA (sleep mode), 0.8mA (sleep mode)
I2C interface
Frame rate: 1 or 10 frames per second
Time to activate communication after configuration: 50ms then 15ms
Panasonic technical manuals
Arduino and Python libraries
Here are several libraries allowing to drive the AMG88xx from an Arduino, ESP8266, ESP32, CircuitPython, Raspberry Pi project
PlatformIO

Sparkfun: 2089 or pio lib install "SparkFun GridEYE AMG88 Library"
Adafruit: 1924 or pio lib install "Adafruit AMG88xx Library"

From the library manager
AMG8833 Breakout on sale
$66.48
in stock
2 new from $66.48
as of 30 April 2021 3 h 10 min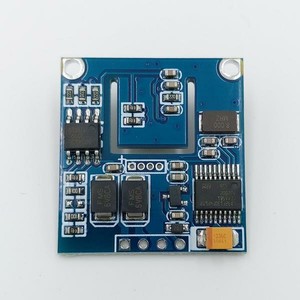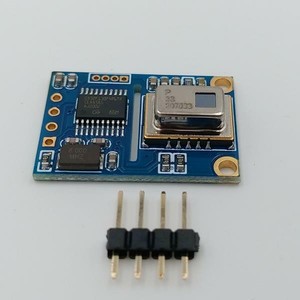 Click to rate this post!
[Total:

0

Average:

0

]